Catalog of Arrital Ibiza kitchens
The beauty of the kitchens available in Arrital Ibiza is magnificently represented through the Arrital kitchen catalog. In the same way that they take care and pamper their kitchens, the Italian firm also prepares a rigorous and aesthetically impeccable catalog in which all the characteristics of their furniture are reflected through proposals of great aesthetic beauty.

Beautiful general photographs that make the client dream of a very special kitchen and close-ups which allow the client to see the careful details which accompany each piece of furniture, make up this catalog which can be viewed online for the greater convenience of the client.
Discover all the proposals of Arrital Ibiza
In the Arrital Ibiza kitchen catalog, you can see all the proposals of the firm, including the AK_Proyect catalog in which you can see the most attractive modular furniture options. The images suggest different ways of playing with the spaces and of taking advantage of the characteristics of the different materials to create unique and personalized kitchens.
Contemporary kitchens, vintage lines or modern industrial trends, all have a place in the Arrital Ibiza kitchen sample book designed to feed the customer's imagination and to easily conceive other options that adapt to their spaces and needs.
A catalog that you will enjoy page by page
The Arrital kitchen magazine is enjoyed online, page by page, recreating itself in every image, and contemplating every detail. You can thus appreciate the great work behind each of the compositions offered to us and the beauty of the finishes in which absolutely everything has been thought of.
From the comfort of your home, you can contemplate the different options and decide which one is the best to fit in your home with the calm and tranquility that comes from doing it without time or schedule.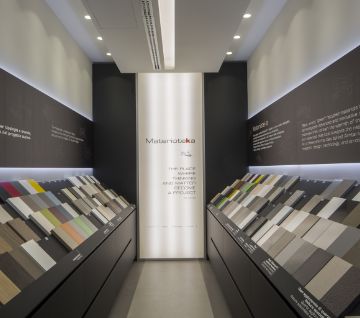 Complete your experience visiting our store
The experience of viewing the Arrital Ibiza kitchen brochures can be completed with a visit to the shop where you can see in person the materials you have liked the most and enjoy the experience that the online cataloge cannot give you: that of touching them with your hands and discovering their touch, their texture, the softness of their drawer closures or the ergonomics of their handles.
Our expert kitchen staff will be at your disposal so that together you can configure the Arrital Ibiza kitchen you need.
Do not hesitate to contact us